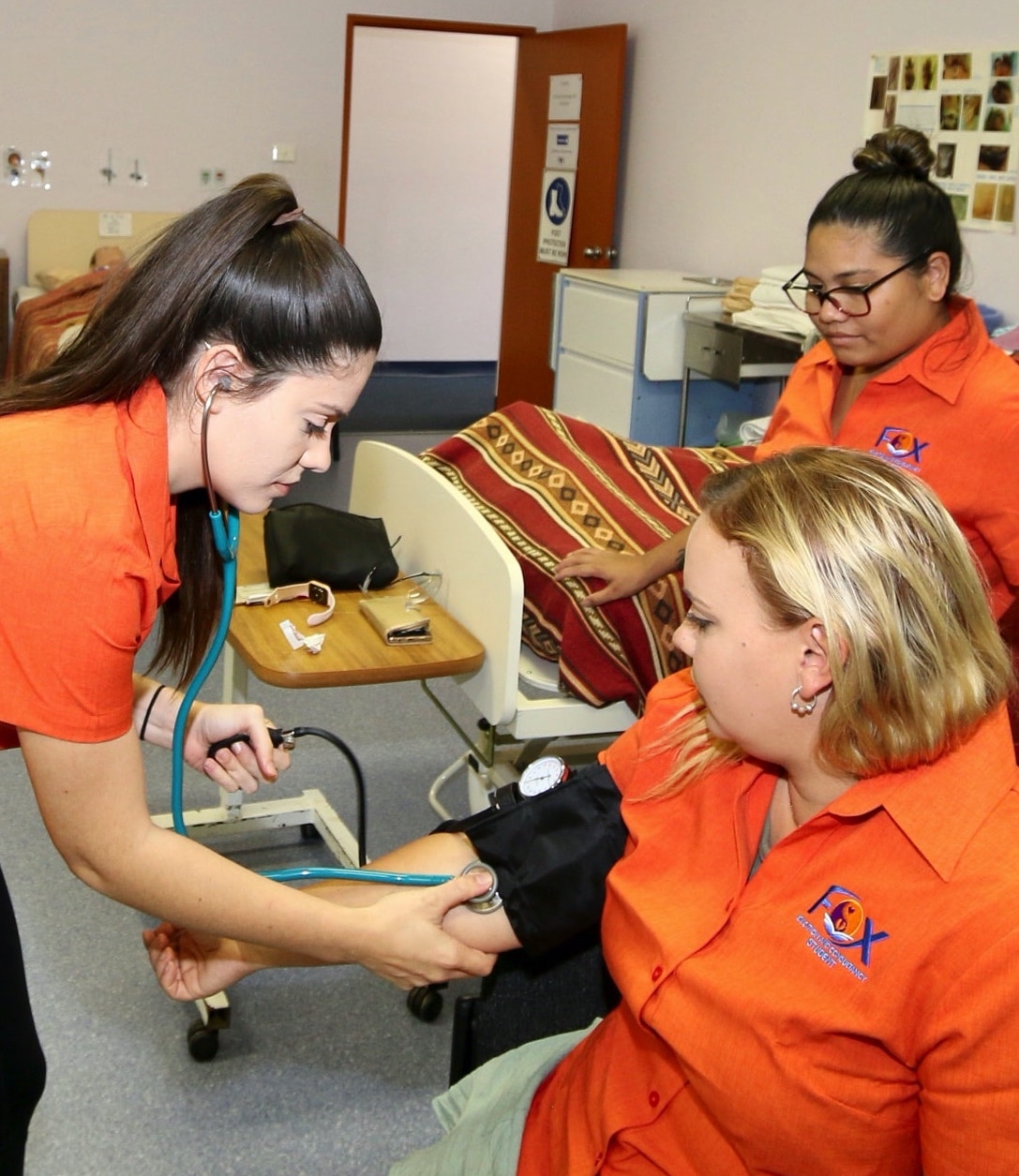 Study Outcomes
Qualification
This qualification reflects the role of an enrolled nurse working under supervision of a registered nurse. This qualification covers the application of skills and knowledge required to provide nursing care for people across the health sector. A lifespan approach should underpin this qualification with relevant competencies that relate to the different stages of life identified within the units.
A graduate from a Diploma of Nursing program approved by the Nursing and Midwifery Board of Australia (NMBA) is able to apply for registration with the NMBA as an enrolled nurse. Further information on registration is available at nursingmidwiferyboard.gov.au. This course is an accredited program and has approved provider status with ANMAC.
Career Pathways
This qualification is a professional pathway into Nursing and then further exemplary streams of practise ie. Advanced Diploma and/or Undergraduate Degree.
The target client groups are:
Existing workers in the care service industry
Mature aged including health workers from fields other than
Those with a previous nursing qualification and
nursing lapsed registration
School leavers
Trainees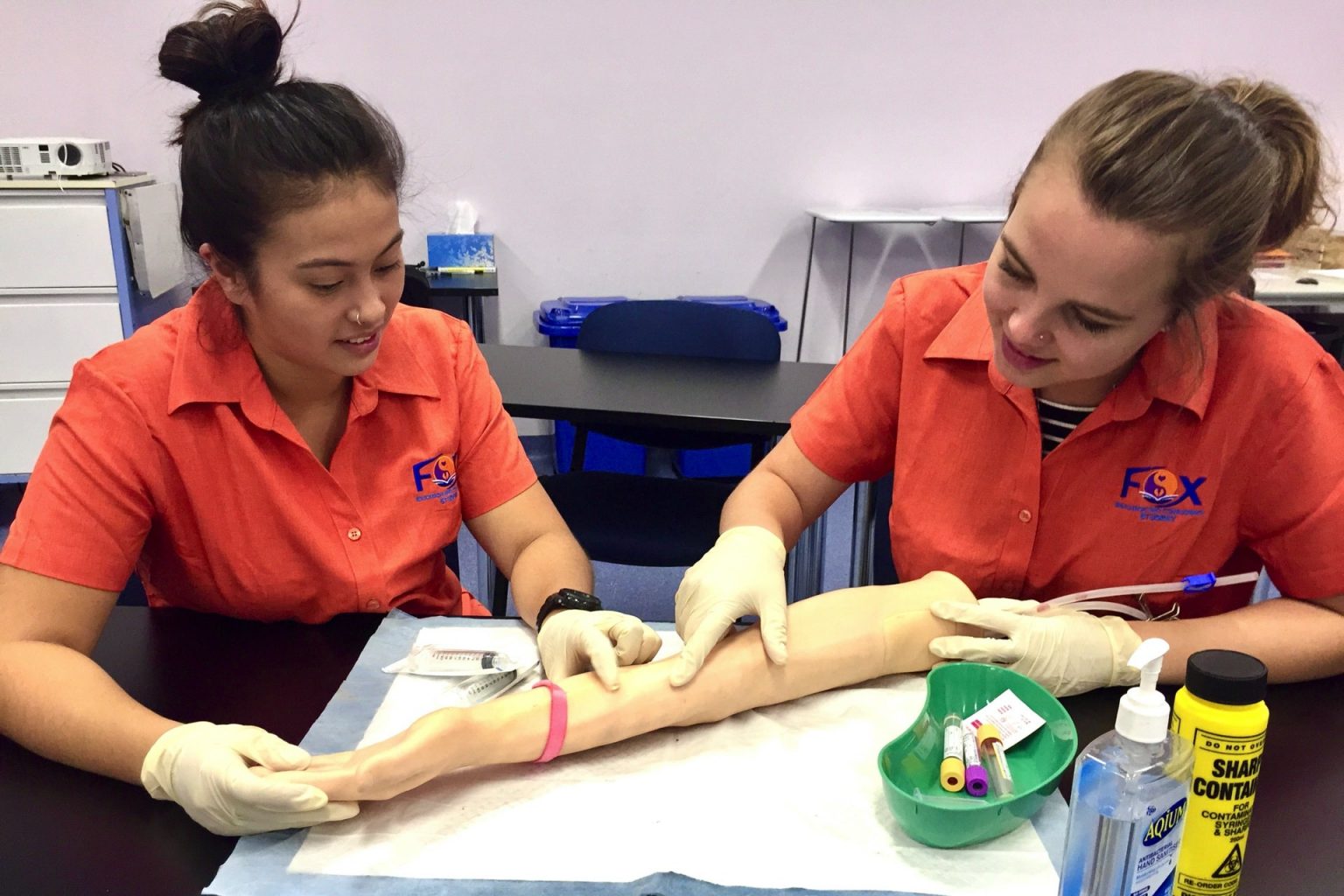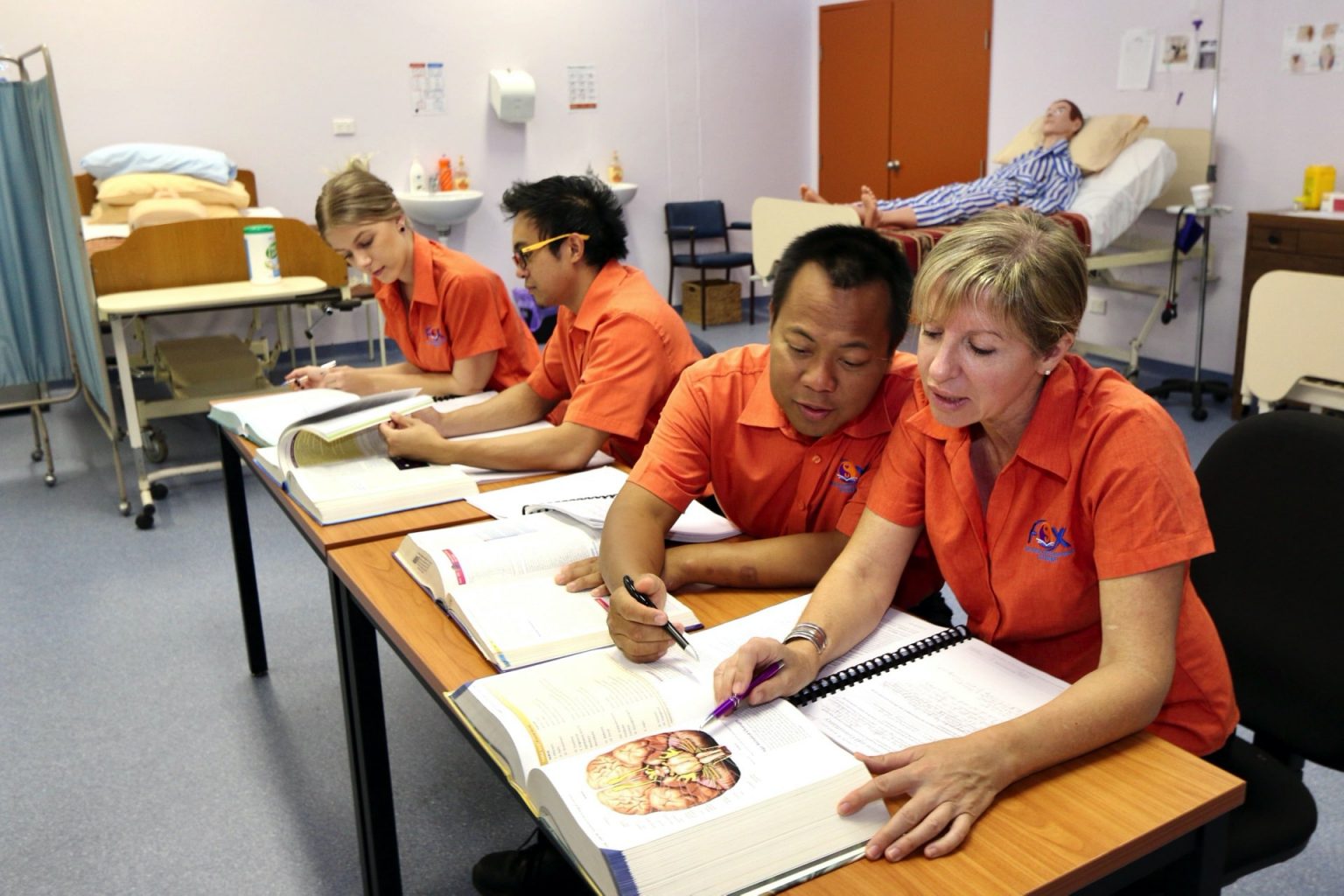 Course subjects
25 competency units are required for award of this qualification, including 20 compulsory units and 5 elective units, which have been chosen through industry consultation.
Reflect on and improve own professional practice


Apply basic principles and practices of infection prevention and control

Participate in workplace health and safety


Manage personal stressors in the work environment


Implement, monitor and evaluate nursing care plans


Confirm physical health status


Implement and monitor care of the older person

Apply legal and ethical parameters to nursing practice

Apply communication skills in nursing practice


Promote Aboriginal and/or Torres Strait Islander cultural safety


Practise nursing within the Australian health care system


Perform clinical assessment and contribute to planning nursing care

Analyse and respond to client health information


Implement and monitor care for a person with acute health conditions


Apply principles of wound management

Implement and monitor care for a person with mental health conditions

Implement and monitor care for a person with chronic health problems

Apply nursing practice in the primary health care setting


Administer and monitor medicines and intravenous therapy


Recognise and respond to oral health conditions

Provide end of life care and a palliative approach in nursing practice


Contribute to nursing care of a person with diabetes

Research and apply evidence to practice
More information about the course
Recognition of Prior Learning (RPL), Credit Transfer (CT) and National Recognition
Prior to commencing the program any learning achieved through formal education and training (credit transfer) or, any learning achieved outside the formal education and training system (RPL) or, recognition of AQF qualifications and statements of attainment issued by training organisations registered in any Australian jurisdiction will be reviewed and granted as deemed applicable by the course coordinator.
RPL is an assessment process that involves assessment of an individual's relevant prior learning to determine the equivalent competency outcomes.
Credit Transfer is a process that provides students with agreed and consistent credit outcomes for components of a qualification based on identified equivalence in content and learning outcomes between matched qualifications Credit will be transferred for prior successful completion of units of competency.
You can apply for RPL or CT by arranging an interview with the Course Coordinator. This is best discussed on enrolment with the course co-ordinator so your individual plan of training can be adjusted prior to commencing. Please note that any RPL or CT may effect the duration of your course and also the duration of your visa.
Industry Placements
This course is industry based training and therefore participants of this course must be willing to complete seventeen (17) weeks full time unpaid placement hours within the industry as part of this course.
Student registration is required with the NMBA for students who are participating in clinical placement in a health
profession for which they do not hold a nursing or midwifery registration. The National Law states that students must
be registered in the interests of public safety: https://www.nursingmidwiferyboard.gov.au/Registration-and-
Endorsement/Student-Registration/Fact-sheet-FAQ-student-registration.aspx
A current Police Check and Ochre Card are necessary to permit placement and/or on-the-job training and assessment
to be conducted. This indicates your suitability to work in this industry. Both the Police Check and Ochre Card MUST
be issued by SAFE NT: http://www.pfes.nt.gov.au/Police/Community-safety/SAFE-NT.aspx
Up to date vaccinations1 are required for placement within the NT hospitals and services. The current list of required
vaccinations is as follows: Measles, Mumps, Rubella, Chicken Pox, Hepatitis A, Hepatitis B, Pertussis, Tetanus /
Diphtheria, Influenza (annually) and TB screening (no more than 6 months old).
Travel and accommodation, where required for placement, is at cost to the student. Please note, any student that is unable to demonstrate the required skills within the allocated timeframe on clinical placement OR is unable to attend clinical placement due to failure to provide a current NT SAFE Police Clearance and/or Ochre Card and/or evidence of vaccinations/serology will be charged a fee of $300 per week to undertake clinical placement at an alternate time.
NB: several units require industry placement to demonstrate safe and competent practise therefore it must be understood this is not a theory based qualification.
Orientation, Training and Assessment Arrangements
Orientation for this course will take place on the Tuesday of the week prior to course commencement. The date of commencement will be advised on confirmation of your enrolment.
Training and assessments are conducted in English. Applicants must possess functional written and spoken English skills and be successful in the pre-course VETASSESS testing and interview selection process.
Furthermore, AHPRA has produced the Nursing and Midwifery English language skills registration standard for English language requirements prior to registration. To view this requirement visit: http://www.nursingmidwiferyboard.gov.au/Registration-Standards.aspx
The program will be delivered face to face for fifteen (15) hours per week over an eighteen month period with seventeen (17) weeks of full time unpaid clinical practicum. The face to face component consists of lectures and clinical skills practice in a simulated environment. Students should allow home study of approximately fourteen (14) hours per week for the course duration.
International Students are required to attend tutorials offered 2 afternoons per week for an additional 5 hours a week or participate in 5 hours of online engagement/learning = 20 hours contact per week.
The supervised clinical practicum will be within the aged care and acute care environs. The negotiated placements will approximately commence after completion of the first four (4) months of theory learning; eight (8) months; eleven (11) months and sixteen (16) months of the training. The face to face component will consist of lectures, assessments and clinical skills practise in a simulated environment. This will ensure students are well prepared and safe to practise their learning.
The Unit Delivery and Assessment Plan indicating the type and frequency of assessment, elements and performance criteria will be provided at the start of each unit. The completion time for this qualification is: Full time – eighteen (18) months
The delivery schedule is subject to change if students are a cohort from industry and the schedule will be negotiated prior to enrolment.
Entry Requirements
All applicants are required to provide evidence of having sufficient language, literacy and numeracy skills to successfully undertake the program's academic and workplace experience requirements, prior to commencing the program. Evidence refers to a language, literacy and numeracy test result from an Australian Government approved provider (eg VETASSESS).
From 1 July 2018 all Diploma of Nursing program applicants that would be required by the NMBA to provide a formal English language skills test when applying for registration, must now provide a formal English language test result demonstrating achievement of the NMBA specified level of English language skills, prior to program entry.
For more details download this guide (PDF)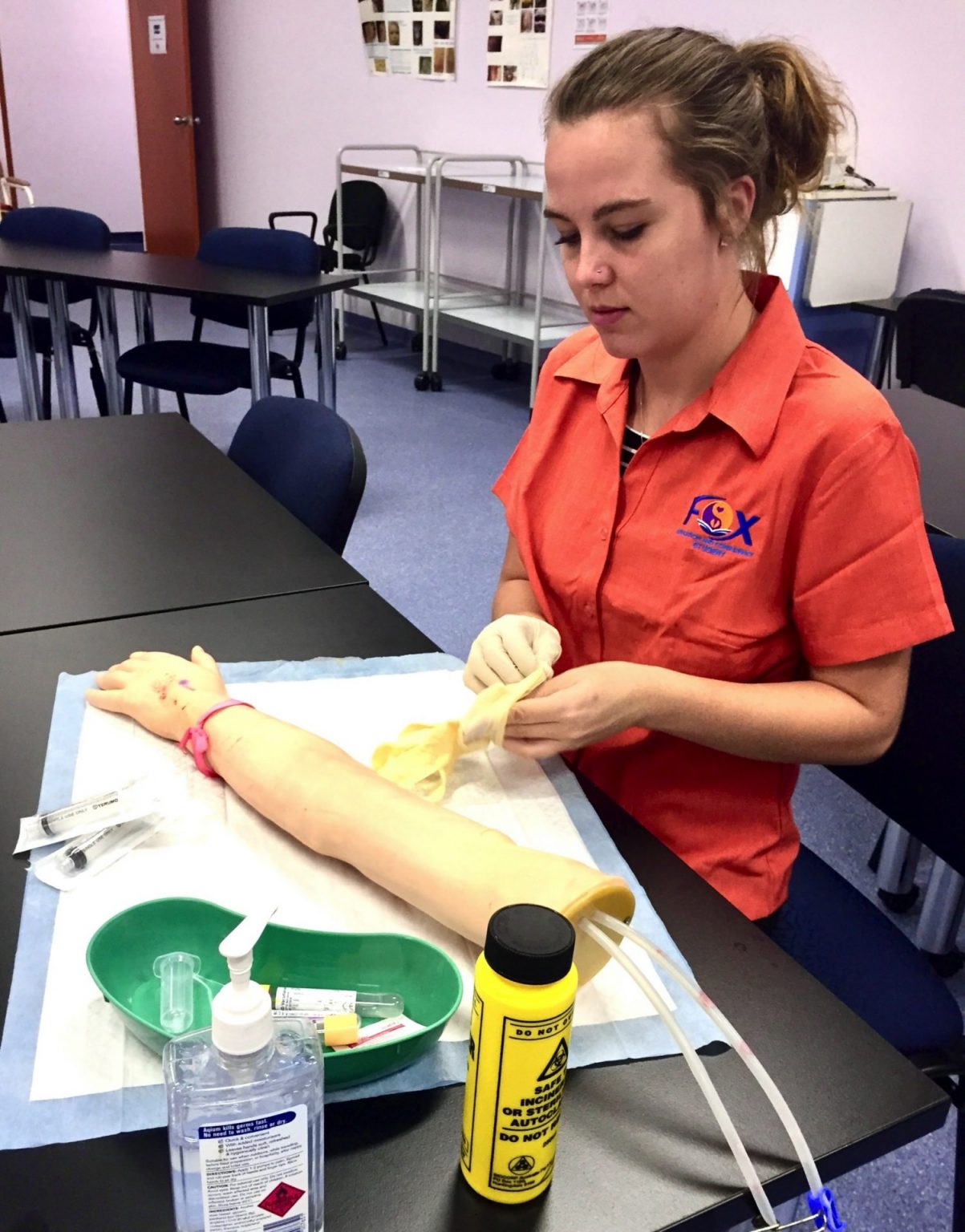 Course Fees

Tuition Fee: $27,249
Vet Student Loans:  Yes, for eligible students. For further information, please check here.
Additional costs
Closed-in black shoes
Ochre Card - issued by SAFE NT
Black business pants
Any additional vaccinations you may require
Fob watch with second hand
Printing/photocopying at 10c per page
Criminal history check - issued by SAFE NT
Replacement clinical manual or ID card
All fees must be paid before a Certificate or Statement of Attainment is issued.
Textbooks and Uniforms
Students are required to purchase text books for this course at a cost of approximately $120.00. The details of the text will be provided to all students at orientation as the text may change from year to year.
Further Information
To assist you in making an informed decision on your course visit our FAQ page or feel free to reach out. We will be happy to assist you.